At the heart of every gardener is a love of life. Gardeners possess a fascination and appreciation for the entire process of a plant's lifecycle, from a sprouting seed to leaf, flower, fruit, death, and rebirth. Life in the garden slows or ceases during the darkest and coldest months of the year, making it all the more precious. This is when we can coerce new life inside our homes with flowers - forced beauty.
THE PROCESS
All woody plants benefit from annual pruning to control their size and correct their shape. Spring-flowering shrubs and trees, like forsythia, magnolia, and cherry, form their flower buds in the late summer or early fall before they go dormant. Generally, pruning would take place after these plants have finished blooming so as not to remove the flower buds and sacrifice the flowers. If, however, you would like branches for indoor winter forcing, you may attend to the pruning of these plants in winter and enjoy earlier blooms indoors without harming the tree or shrub.

PRUNING
Prune on a sunny winter's day when temperatures are above freezing.

Use only clean, sharp pruners and proper pruning techniques.

Prune out all damaged, crossed, or unwanted branches.

Do not shear the plant, or you will hinder all outdoor blooms this spring.

If pruning predominantly for forcing, selectively take your cuttings from various sections of the plant, not just one area, to avoid mutilating the plant.

From the clippings, select branches that are less than ½ inch in diameter, at least 1 foot long, and are loaded with plenty of plump flower buds.
Pruned January Through Early February:
Flowering Almond, Forsythia, Fothergilla, Pussy Willow, & Quince
Pruned Mid - through Late February:
Azalea, Lilac, Magnolia, Mock Orange, & Spring Viburnum

Pruned January through Early February:
Pear, Cherry, Cornelian Cherry Dogwood, Serviceberry, & Witch Hazels
Pruned Mid - through Late February:
Apple, Crabapple, Eastern Redbud, Magnolia, & Red maple

FORCING
From pruned pieces, select branches for forcing.

Remove all buds that will be below the water line in the vase.

Run hot water from the tap.

Holding stems under the hot water, make a sharp angled cut at least one inch above the original cut. Or, if the branch is on the thicker side, make an inch-long cut through the center of the stem.

Immediately place cut stems in a vase containing fresh water and floral preservative.

Arrange stems or store them in a cool environment, 45 to 55 degrees Fahrenheit, for arranging later.
Quoddy Blend™ Organic & Natural Compost with Lobster & Crab
Plan on planting an assortment of shrubs and trees for future flower forcing? Then plan on growing them with Coast of Maine® Quoddy Blend™ Organic & Natural Compost with Lobster & Crab. This rich, nutritious, dark compost will provide your woody plants with an excellent start to help them grow and thrive.
CLICK HERE to SHOP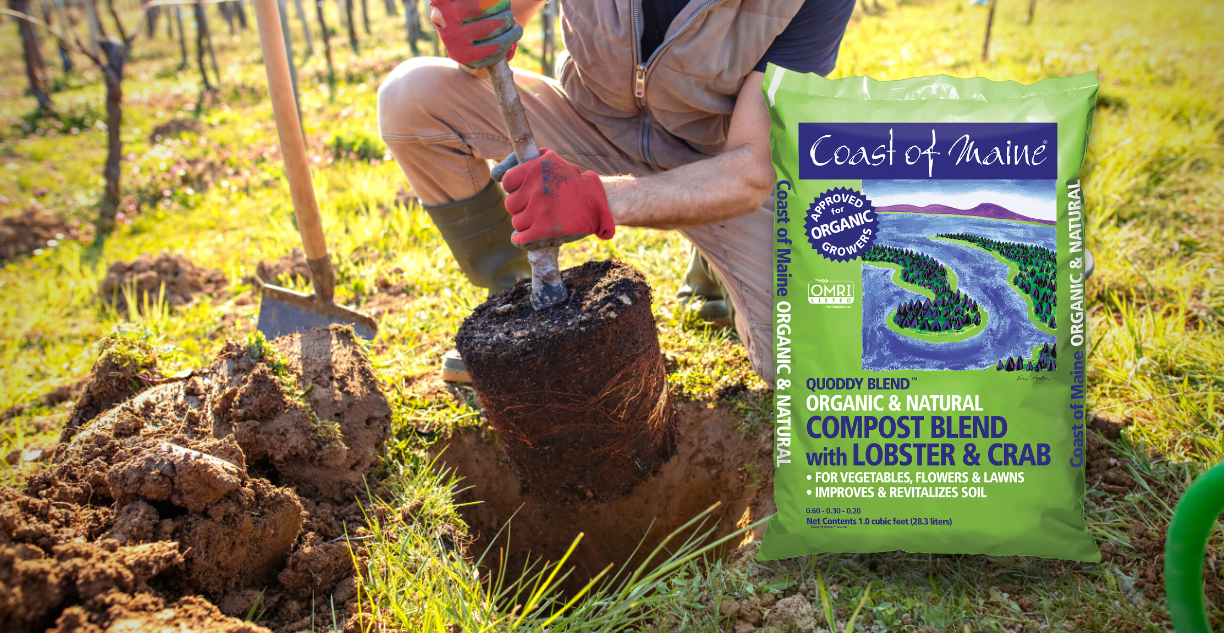 PLANTING TREES & SHRUBS
Dig a hole as deep and twice as wide as the root ball. Place the plant in the bottom, so the stem is centered and the crown slightly above the hole's rim. If the root ball is burlap wrapped, cut away the top wrapping to free the trunk or main stem. Fill with equal parts of Quoddy Blend™ and soil, tamping around the plant. Water thoroughly and regularly until the plant is established.
FINAL NOTES
After at least six to eight weeks of winter dormancy, cut branches will break bud in one to four weeks after exposure to warmer temperatures and higher humidity. However, if cut at the proper time, most will only require two weeks.

Adding floral preservatives to the vase water is essential to promote hydration and prevent bacterial growth, keeping it clear for up to one week. Don't skip this step.

Keep flowering branches out of direct sunlight and away from heat sources. This will prolong the life of the flowers.

Experiment with cutting a few branches each week during the late winter and early spring for a continuous supply of beautiful blooms.

Get a jumpstart on spring chores, lift your spirits, and bring your home to life this winter by forcing a succession of enchanting flowering branches.
VIDEO SPOTLIGHT
Learn why it is best to go with Coast of Maine®
when planting trees and shrubs.
| | | | | | | |
| --- | --- | --- | --- | --- | --- | --- |
| | | | | Read Our Blog | | |